Joy, Hope and Smiles During the Holiday Season
January 25th 2022
Joy, Hope and Smiles During the Holiday Season
The 30th edition of the Valoris Christmas Elves Campaign was a huge success once again in 2021 bringing huge smiles to the faces of hundreds of children.
Thanks to the immense generosity of the Prescott-Russell community, 592 children and teenagers woke up on Christmas morning to find gifts under their tree.
"The pandemic has had repercussions on many families in Prescott-Russell, and we believe that this important campaign has brought a wave of positivity in the homes of many this year. This campaign has always been very important to Valoris because it brings joy to children and hope to the region," explains Hélène Fournier, Valoris' Executive Director.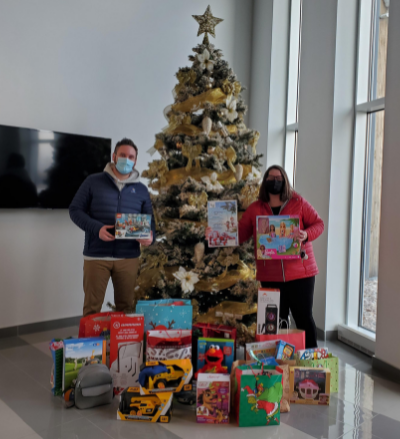 Justin Mercier (left), Commercial Account Manager - Agriculture at RBC, one of the local organizations participating in the campaign, and Guylaine Lapointe (right), Interpersonal Collaborator at Valoris and coordinator of the Christmas Elves Campaign are surrounded by gifts donated to children in Prescott-Russell.
Another initiative collected gifts and funds for the campaign. The Valoris Foundation organized the second edition of the Valoris Christmas Elves Challenge, an annual race. Seventy-five individuals participated in the challenge, and 25 sponsors donated to the cause. Overall, the race generated over $28,000!
Valoris would like to thank all the businesses, associations, organizations, professionals, school boards, volunteers, and residents of Prescott-Russell for their unparalleled support and commitment to this important campaign!